What we're all about. Build you a better bus.
It's not time or sheer experience that continues to stand us apart. It's our underlying philosophy: to build you a better bus. That is, one that'll earn you more and cost you less in the long run. One you are happy with.
To do that means we not only build with quality parts but also develop a welcoming relationship with you. We enjoy our work, and we want to enjoy working with you. Your satisfaction is as much a part of this process as any chassis or side frame and that's the way it's been since day one.
Running strong
The buses we originally built are still running strong. So just imagine with all the progressions that we have made since the early days what you can expect from a bus built today.
Ongoing process efficiencies and innovations continue to allow us to provide the services of much larger operations. Careful evolution of our processes and practices continues well beyond the industry norm. For the betterment of our buses and the enjoyment of our many thankful customers, we remain at the leading edge of bus technology.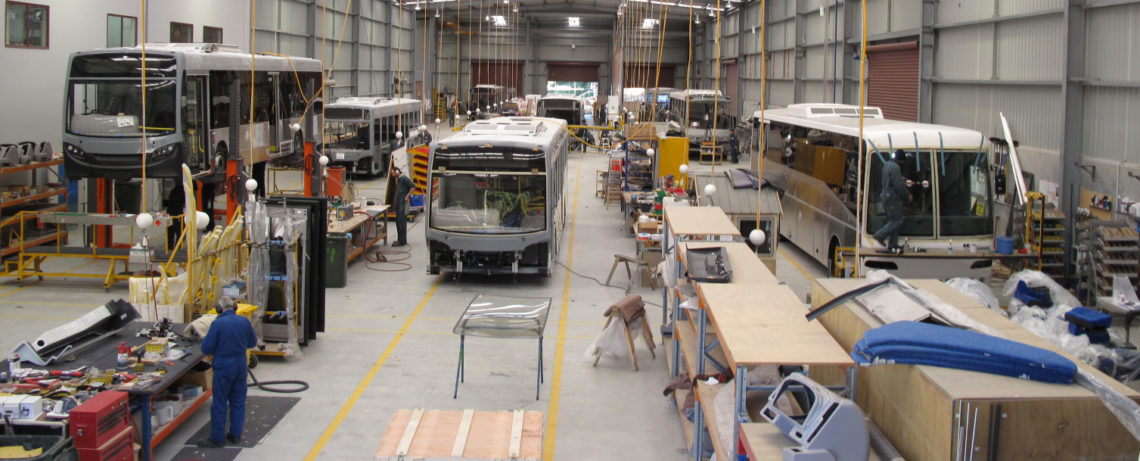 While building new buses will always be a challenge, owning one shouldn't be an ongoing struggle. With the abundance of functional and aesthetic extras coupled with the raw longevity of our buses, for you it will always be a pleasure.
Our place
We're lucky enough to be located in Tauriko, Tauranga, in the sunny Bay Of Plenty on the North Island of New Zealand. Tauranga has recently reached city status with a population of over 100,000.
Tauranga's recent growth has been matched by the growth of Kiwi Bus Builders and in the last few years the staff numbers have tripled in size.
Kiwi Bus Builders is a private New Zealand Company owned by its original four shareholders. Managing Director Richard Drummond started the company in July 1993 with mainly repair and accident work and commenced building the first bus in October 1993. By the end of the 1990's Kiwi Bus Builders was the leading Coach Builder in New Zealand, a position attained through customer service, innovative engineering design and advanced assembly techniques.